For Child Care Providers: Why Is Breastfeeding-Friendly Child Care Necessary?
According to the New Jersey Breastfeeding Coalition's new resource for child care providers and staff,
"Now more than ever, providers of early care and education (ECE) in child care centers and family child care homes serve as invaluable "essential workers," entrusted with the well-being and protection of infants and children while their parents cannot be with them. Early childhood educators are important mentors as well for new parents, providing them information and guidance on common childhood concerns. Child care staff also play a critical role in supporting children's health and nutrition, especially when it comes to breastfeeding. The return to work outside the home or to school makes continued breastfeeding more difficult for new parents, but research shows that mothers who are supported by child care providers are more likely to continue breastfeeding for six months and beyond."
Breastfeeding Babies Are Welcome Here: Creating Breastfeeding-Friendly Child Care in New Jersey, p. 1.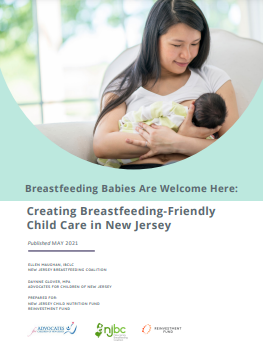 Authored by the New Jersey Breastfeeding Coalition and Advocates for Children of New Jersey with funding from the NJ Child Nutrition Fund and the Reinvestment Fund, this booklet provides abundant resources and evidence-based information on easing the breastfeeding journey for lactating parents as they transition to a child care setting. The booklet also included New Jersey laws on lactation support in the workplace for the families and child care staff as well as state child care regulations on feeding and handling of human milk.
For Families: Breastfeeding Works: Sending Your Breastfeeding Infant to Child Care in New Jersey
For parents, maintaining breastfeeding and human milk feeding despite separation that comes from the return to work or school can be a time of anxiety and mystery. This new booklet by Montclair State University is an essential how-to manual that provides information and resources to families as they navigate the transition of their infants to child care while continuing to breastfeed or provide human milk to them.