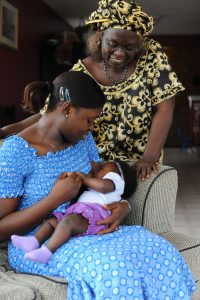 The New Jersey Breastfeeding Coalition (NJBC) commits to inclusion, diversity, and equity as core values, embracing meaningful participation and actively soliciting varied viewpoints.
The resources in this toolbox are provided for educational purposes to support breastmilk-feeding families.
The following information was graciously shared and developed by Laura Gruber, IBCLC, for the Texas Breastfeeding Coalition.
Breastfeeding Organizations' Diversity/Equity Statements
Organizations for families and breastfeeding professionals working hard to address disparities:
Racial Equity & Breastfeeding
Understanding the Issue of Racial Disparities in Breastfeeding:
Resources for Black Families (& supporters)
Resources for Native American Families (& supporters):
Resources for Latino Families (& supporters):
 Join the Facebook conversation:
Cultural Sensitivity Resources:
Organizational Assessment Tools:
Other Areas of Diversity
LGBTQIA & Breastfeeding/Parenting
Resources:
Religion & Breastfeeding
Resources:
If there is a problem linking to any of the above resources, please contact NJBreastfeedingCoalition@gmail.com