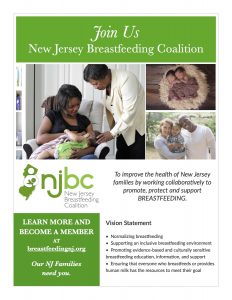 Your membership will help protect, promote, and support breastfeeding in New Jersey. To join the Coalition, please complete our membership form online or complete a paper copy of the form and mail it to the address on the form.
We are a non-profit and flourish on donations. You can submit donations using the Paypal "DONATE" button.
Donations are encouraged but not required for membership.
Want to be a member? Fill out the MEMBERSHIP FORM ONLINE or see form below.
Thank you for your support and participation.