New Jersey Employees Who Breastfeed Must Be Protected and Accommodated at Work  
Continuing breastfeeding after the return to paid employment can be very challenging.   When separated from the baby for more than a few hours a day, it is important for the breastfeeding parent to express milk at appropriate intervals to maintain the milk supply, to provide sufficient breast milk for the child while separated and to keep the breasts healthy and comfortable.
Fortunately, New Jersey law now protects breastfeeding employees who wish to pump at work.  Effective Jan. 8, 2018, New Jersey law (P.L.2017, Chapter 263) requires protections and accommodations for employees who breastfeed and wish to pump in the workplace.  The new law provides:
"Breastfeeding" is now a protected class under the NJ Law Against Discrimination (N.J.S.A. 10:5-12) (LAD), so it is illegal to discriminate against a person in employment on the basis of their breastfeeding status.
All employers must provide reasonable accommodations to breastfeeding employees which include reasonable break time and a private place to pump other than a toilet stall, that is in close proximity to the employee's work area.
The New Jersey Breastfeeding Coalition has created two fact sheets and an infographic to help employees and employers understand their rights and obligations under state law:
Employee's Fact Sheet: Workplace Breastfeeding Rights in New Jersey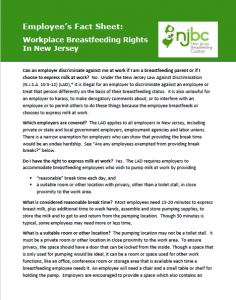 Employer's Fact Sheet: Workplace Breastfeeding Rights in New Jersey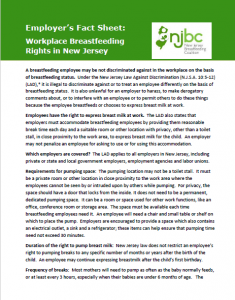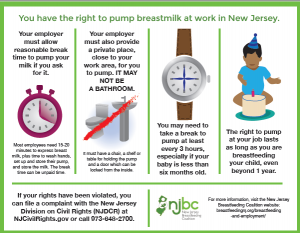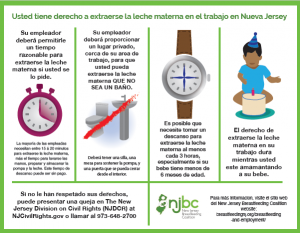 In addition to New Jersey law, the existing federal "Break Time for Nursing Mothers" provisions of the federal Fair Labor Standards Act  (FLSA) (29 U.S.C.207(r)1-4 ) require employers to provide "reasonable break time for an employee to express breast milk for her nursing child for one year after the child's birth each time such employee has need to express milk."   This law applies to employees who are non-exempt from the FSLA, which includes those who are eligible for overtime pay.
The chart below summarizes the legal protections of the state and federal breastfeeding accommodation laws.  An employee may decide which law applies to her situation.   This chart is for information purposes only. If you have further questions, you may contact the NJ Division on Civil Rights, the Wage and Hour Division of the US Department of Labor or obtain legal counsel.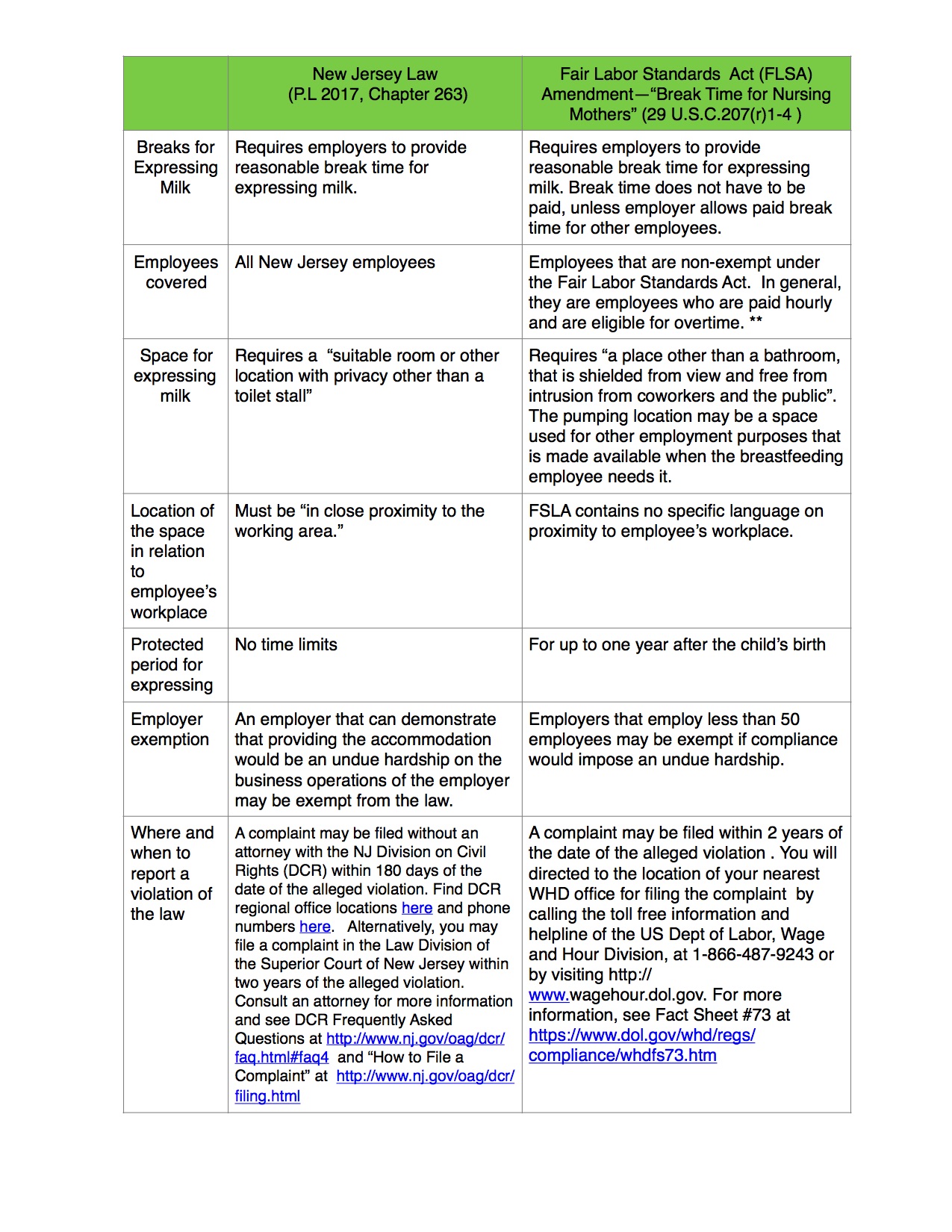 **For more information on who is covered by the Break Time for Nursing Mothers Law, see http://www.usbreastfeeding.org/p/cm/ld/fid=231.  You may also call the Wage and Hour Division of the US Dept of Labor at 1-866-487-9243, or consult the Fair Labor Standards Act Advisor.
Resources for Employees Returning to Work:
Breastfeeding USA, https://breastfeedingusa.org/content/breastfeeding-counselor-locations
La Leche League of NJ, www.llli.org/web/newjersey.html
NJ WIC Program, http://www.nj.gov/health/fhs/wic/nutrition-breastfeeding/
US Breastfeeding Committee, Workplace Accommodations to Support and Protect Breastfeeding, http://www.usbreastfeeding.org/p/cm/ld/fid=196
US Breastfeeding Committee, Workplace Support in Federal Law, http://www.usbreastfeeding.org/workplace-law
US Department of Health and Human Services, Office on Women's Health, Breastfeeding and Going Back to Work, https://www.womenshealth.gov/breastfeeding/breastfeeding-home-work-and-public/breastfeeding-and-going-back-work
US Department of Health and Human Services, Office on Women's Health, It's Only Natural, Breastfeeding and Going Back to Work, https://www.womenshealth.gov/itsonlynatural/fitting-it-into-your-life/index.html
US Department of Health and Human Services, Office on Women's Health, The Business Case for Breastfeeding, https://www.womenshealth.gov/breastfeeding/breastfeeding-home-work-and-public/breastfeeding-and-going-back-work/business-case f
US Department of Labor, Wage and Hour Division, Fact Sheet #73: Break Time for Nursing Mothers under the FLSA, https://www.dol.gov/whd/regs/compliance/whdfs73.htm
US Department of Labor, Wage and Hour Division, Frequently Asked Questions—Break Time for Working Mothers, https://www.dol.gov/whd/nursingmothers/faqbtnm.htm
ZipMilk.org.  Find local breastfeeding support for your return to work through this statewide breastfeeding support database. http://www.zipmilk.org/