Please submit your events here.
These events are sponsored and run by other groups and organizations. The New Jersey Breastfeeding Coalition takes no responsibility for the description, content, or speakers nor do we endorse any of them. These listings are for informational purposes only.
Black Breastfeeding Week
Daily Reflection
Jillian Faulks will lead a daily session reflecting on the importance to rest and take a break.
When: Daily beginning Wednesday, August 25, 2021
Where: https://www.instagram.com/chocolatemilkcafe Be sure to follow their page and turn on notifications so you can join when it starts.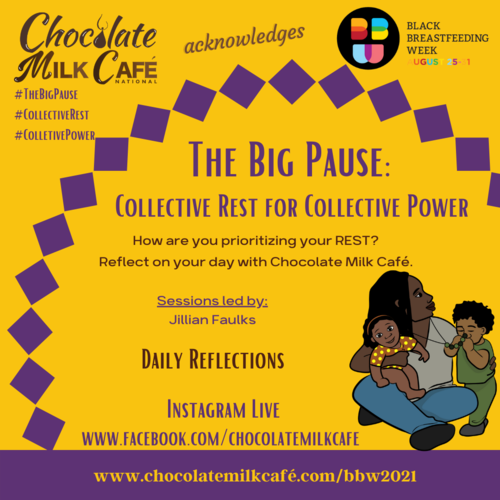 August 25
A week of events held by Chocolate Milk Café.
https://www.chocolatemilkcafe.com/upcoming-meetings?tag=bbw2021&category=Black%20Breastfeeding%20Week
NEW Carrier Community Support sessions
Chocolate Milk Café is kicking off Black Breastfeeding Week by introducing their Carrier Community Support Sessions for families who need guidance in carrying their kids using common western carrier styles. These sessions are led by Chocolate Milk Café's Certified Facilitators who have a specific interest and knowledge in assisting members of our community in using baby carriers popularized in the United States.
When: Wednesday, August 25, 2021, 11:00 am
(future sessions are October 27 and December 29)
Cost: $5 donation
Where: online
Who should attend: Families who need a bit more support when it comes to carrying their children or feeding them in a carrier. As with all CMC support groups, these sessions are restricted to families of the African diaspora.
Register and more info: https://www.eventbrite.com/e/carrier-community-support-tickets-165842265681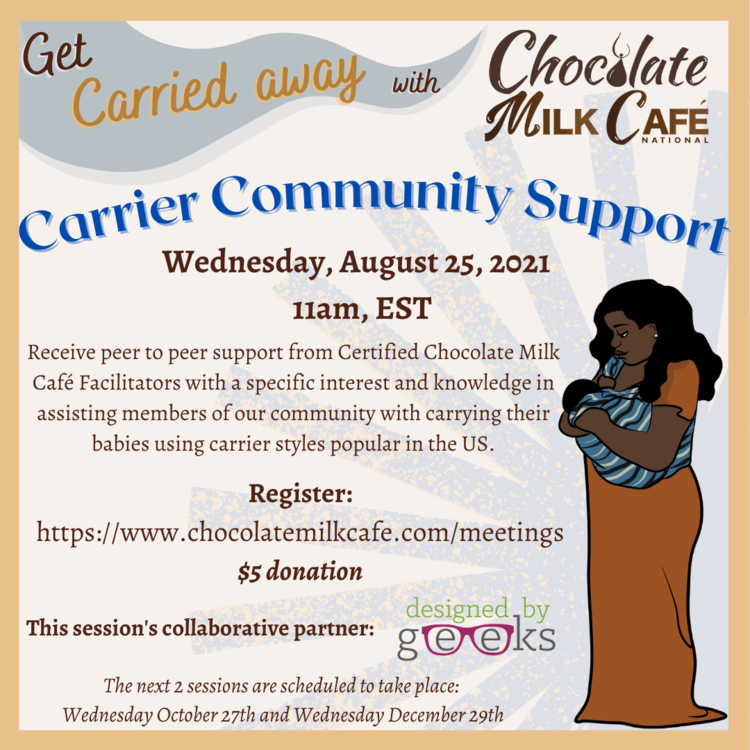 August 28
Talk Tandem to Me
Let's talk about tandem feeding in the Black community and how some experiences may differ from what we see has been depicted in media. Conversation lead by Jillian Faulks and Takisha Miller.
When: Saturday, August 28, 2021, 11:00 am – 12:00 pm EST
Cost: free
Where: Live on Facebook: www.facebook.com/chocolatemilkcafe
Who should attend: Everyone!
More info: https://www.chocolatemilkcafe.com/upcoming-meetings?tag=Tandem%20feeding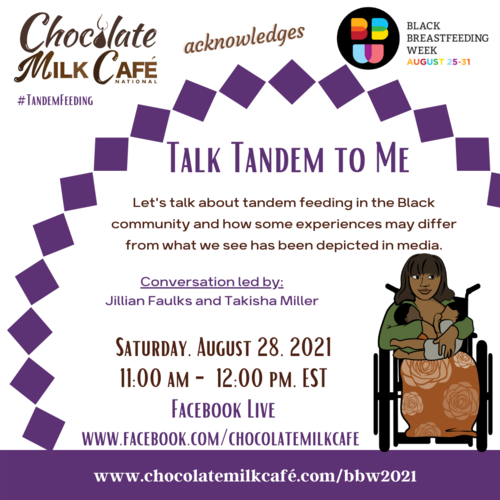 August 29
Inclusivity in Lactation
How can we show up for those in our community who need an added layer of support related to their lived experiences?
Conversation with Mystique Hargrove (she, they) and Kayden Coleman (he, him)
When: Sunday, August 29, 2021, 4:00 pm – 5:00 pm EST
Cost: free
Where: Live on Facebook: www.facebook.com/chocolatemilkcafe
Who should attend: Everyone!
More info: https://www.chocolatemilkcafe.com/upcoming-meetings?tag=Tandem%20feeding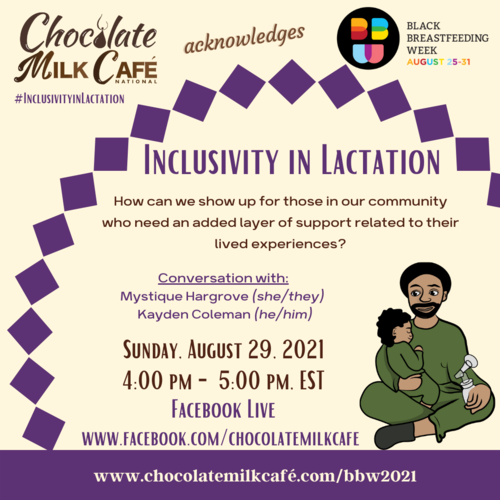 August 31
Sistahs Who Breastfeed Breastfeeding Week 2021 Summer Beach Party
Tuesday, August 31, 202111:00 am-4:00 pm
Sistahs Who Breastfeed is hosting a community event to raise awareness of the benefits of breastfeeding.
Don't miss the Breastfeeding Week 2021 Summer Beach Party in Paterson. All pregnant and families with children are welcome to attend and gain access to information that can improve health outcomes for birth givers and their children.
Please contact Melanie Hutton at (201) 820-5694 for more information.
PAST EVENTS
August 4
Our topics this year include the fascinating epigenome and microbiome, case studies, and presentations that address what to do when a baby has not latched and a discussion surrounding the ever-popular question, "can a baby be allergic to breast milk"? We hope you can join us.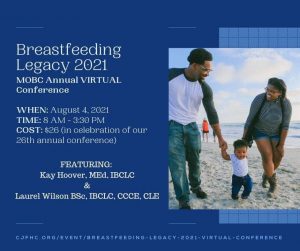 Breastfeeding Legacy 2021
When: August 4, 2021
Time: 8:00 AM – 3:30 PM
Cost: $26, in celebration of our 26th annual breastfeeding conference
Who should attend: Nurses, Midwives, Doctors, Nutritionists, Lactation Consultants, Doulas, Community Health Workers… anyone interested in supporting lactation
For more information and to register: https://cjfhc.org/event/breastfeeding-legacy-2021-virtual-conference/ 
MOBC is a non-profit organization and CERPs will be provided.


---
August 5
Partnership for Maternal and Child Health of Northern New Jersey
Expanding Lactation Care: Incorporating Inclusion into Professional Practice Series
Please join us for our virtual speaker series recognizing National Breastfeeding Month and featuring subject matter experts.
When: Live webinars will be held every Thursday in August, from 2:00 to 3:00 pm EST.
Cost: $30, Partnership Member Hospital Staff $25 using a discount code available at your worksite. The cost for the entire series, but attendees can participate in any or all of the sessions.
Who should attend: Perinatal nurses, lactation consultants, and other lactation support and perinatal health professionals
Continuing education credits: Approved by IBLCE for 2.0 L-CERPs and 2.0 R-CERPs (only granted for the live sessions), each session has been awarded 1.0 Continuing Nursing Education Contact Hours
More information: For questions, pay via check, or to request an invoice, contact Sarah Muller-Robbins, RN, MPH, IBCLC, ICCE, Director of Education, at srobbins@pmch.org.
Register: https://partnershipmch.org/professional-education-programs/nbm/
Detailed information: https://partnershipmch.org/assets/2021/06/Flyer-August-Breastfeeding-Month-Webinar-Series.pdf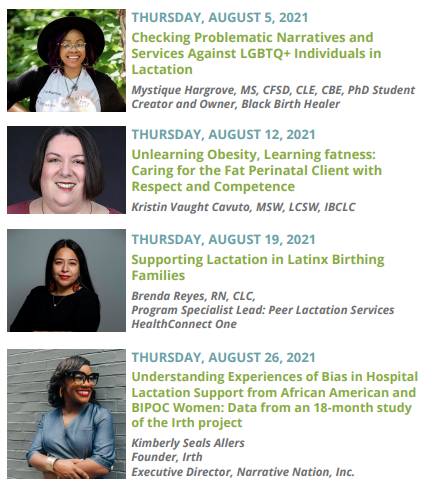 Checking Problematic Narratives and Services Against LGBTQ+ Individuals in Lactation
Thursday, August 5, 2021 – 2:00 – 3:00 PM EST
Speaker: Mystique Hargrove, MS, CFSD, CLE, CBE, Ph.D. Student
Unlearning Obesity, Learning Fatness: Caring for the Fat Perinatal Client with Respect and Competence
Thursday, August 12 – 2:00 – 3:00 PM EST
Speaker: Kristin Vaught Cavuto, MSW, LCSW, IBCLC
Supporting Lactation in Latinx Birthing Families
Thursday, August 19- 2:00 – 3:00 PM EST
Speaker: Brenda Reyes, RN, CLC Program Specialist Lead: Peer Lactation Services at HealthConnect One
Understanding Experiences of Bias in Hospital Lactation Support from African American and BIPOC Women: Data from an 18-month study of the Irth Project
Thursday, August 26 – 2:00 – 3:00 PM EST
Speaker: Kimberly Seals Allers, she/her/hers, Founder, Irth & Executive Director, Narrative Nation, Inc.
---
NJ-AIMH Celebrates National Breastfeeding Month! "Enhancing the First Relationship"

Explore the role of breastfeeding as a protective factor in early relational health. Learn more about NJ-specific resources and policies that foster a culture of health.
Presented by Jill Wodnick, MA, LCCE, IMH-E®and Jessica Cowan, LSW, IMH-E®
When: Wednesday, August 11, 2021, 12:30 – 1:30 PM
Who should attend: Anyone!
Cost: FREE
Registration is required. Please register here: https://us02web.zoom.us/meeting/register/tZAldO-vqTosE9M_f3NEuyrQunXCyLRMFd6G
Please contact Jill Wodnick for more information.
---
The Perinatal Health Equity Foundation presents:
The New Jersey State of Black Breastfeeding–a webinar.
Wednesday, August 25 at 1 pm
For registration information for this and other PHEF Black Breastfeeding Week events: https://www.perinatalequity.org/bbwnj
CAPITAL HEALTH MATERNITY SERVICES PRESENTS:
A MOMENT TO PAUSE AND REFLECT: BREASTFEEDING IN THE BLACK COMMUNITY
JOIN US AS WE CHAT WITH BLACK BREASTFEEDING MOTHERS IN THE COMMUNITY. THEY WILL SHARE THEIR EXPERIENCES WITH BREASTFEEDING DURING A PANDEMIC, THE IMPORTANCE OF HAVING A COLLECTIVE SUPPORT TEAM, AND HOW THEY ENCOURAGE OTHER MOMS IN THE COMMUNITY TO BREASTFEED.
WHEN: AUGUST 26, 2021
TIME: 6 – 8 PM
LOCATION: VIRTUALLY VIA ZOOM MEETING
RSVP BY AUGUST 24 TO FELICIA PATTEN: FPATTEN@CAPITALHEALTH.ORG