Disclaimer: NJBC is NOT hiring. We are NOT offering employment positions. The below is information regarding lactation/breastfeeding positions in New Jersey.
Lactation Related Positions in NJ
North Hudson Community Action Program WIC is hiring a Breastfeeding Coordinator.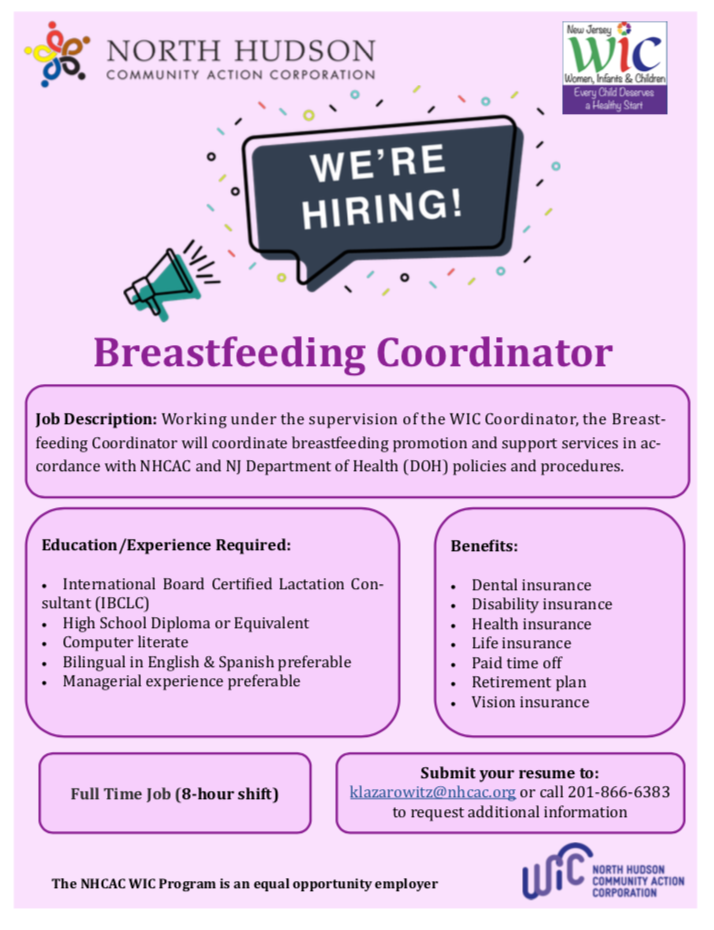 Gateway WIC is hiring a lactation consultant. Apply here.

Job Title: Lactation Consultant, IBCLC 
Supervisor: Asst. Program Coordinator and Breastfeeding Manager
Job Functions: Provide direct clinical breastfeeding services to WIC participants with appropriate follow up within the "Standards of Practice for IBCLC Lactation Consultants," including assessment, planning, intervention, and evaluation of care in the WIC clinic, or other appropriate location as well as virtual services via phone and video calls. Document all client contacts completely and accurately. Maintain records, statistics and schedules for lactation services.  May supervise and mentor Peer Counselors. May conduct training and in-services as needed. Conduct breastfeeding support groups and assess the need for breastfeeding aids and instruct women in their appropriate use.  Make appropriate referrals. Maintain accurate breast pumps and breastfeeding aids inventory. Organize information and create posters for activities to advocate breastfeeding. Responsible for professional self-development and other duties mandated by the State WIC program. Must have the ability to work in a fast-paced environment with multi-cultural, and multi-lingual clientele and /staff. Travel within Gateway CAP service area is required. Other duties as assigned by Supervisor. 

Education requirements: Required International Board-Certified Lactation Consultant (IBCLC) IBCLC.  
Experience:  One year, but will accept less experience if the candidate is promising.  Spanish speaking ability highly desired
Salary: Competitive. 28 hours work week position.  
NJBC is looking for interns!
Seeking an grant writing intern. Please contact marytubek@gmail.com for further information.